Teenage surfer Bethany Hamilton loses her arm in a shark attack, but gains to courage to go back to surfing.
Plot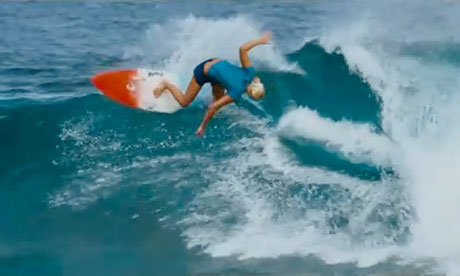 Bethany Hamilton as herself (stock footage)
In 2003, Bethany Hamilton and her best friend Alana Blanchard have entered a surfing competition. Chuch youth ministry leader Sarah Hill is disappointed when Bethany explains that she has to cancel going on a mission trip to Mexico because of it. Bethany comes in first, making her rival, Malina Birch, pretty frustrated. The Rip Curl surfwear company offers the friends sponsorships. On October 30th, the girls sneak off to go nightsurfing with some friends. The next day, Alana, Bethany, Holt (Alana's dad), and Byron (Alana's brother) go surfing. While wating for a wave, Bethany casually has her arm in the water, when a tiger shark (we only see half of the shark...maybe it's
Sharktopus
) suddenly bites off her arm. Everyone swims and takes her to shore, where Holt works on creating a tourniquet out of the surf leash while Byron calls 911. After arriving at the hospital, it is revealed that Bethany, in addition to losing her left arm, has lost over 60% of her blood. Paparazzi of the shark attack begins to stress the family and take away they're privacy. Bethany's injury has removed her from the Rip Curl photo shoots, but is happy for Alana. TV show
Inside Edition
offers to give Bethany a prosthetic arm as long as she does an interview for the show, but she rejects when she finds out that the arm won't help her do anything. Eventually, she decides to get back into surfing and learns to surf with one arm after trial-and-error. 
AnnaSophia Robb as Bethany Hamilton
She re-enters in the competition. She later tells Malina not to take it easy on her, and she even rejects the five-minute head start that the judges have given her because of her handicap. However, she is not doing well in the competition as she is not able to duck dive (a surf move where you go beneath a wave not big enough to surf on). She eventually quits surfing. Eventually, she goes on a mission trip to Thailand to help out with people in the aftermath of the 2004 tsunami. Eventually, it inspires her to get back to surfing. Her dad has created a handle loop on a surf board so she can duck dive again. In the final competition, she does very well, but comes in 5th (her last wave did not count). Despite this, she is alright with it, saying that she didn't come to win...she came to surf.
Overall Review
My Rating: A+
I thought this was a pretty good movie. I highly recommend it, and I don't agree with professional reviews on anything. So see the movie and ignore the critics...except for me. I'm your only reliable critic!
Cast
AnnaSophia Robb as Bethany Hamilton
Helen Hunt as Cheri Hamilton
Dennis Quaid as Tom Hamilton
Carrie Underwood as Sarah Hill
Kevin Sorbo as Holt Blanchard
Ross Thomas as Noah Hamilton
Chris Brochu as Timmy Hamilton
Lorraine Nicholson as Alana Blanchard
Jeremy Sumpter as Byron Blanchard
Sonia Balmores Chung as Malina Birch
Craig T. Nelson as Dr. David Rovinsky
Cody Gomes as Keoki
Branscombe Richmond as Ben
Arlene Newman-Van Asperan as Cydney Blanchard
Nadeen Ayman as Jenny
Tiffany Hofstetter as Rosemary
Dutch Hofstetter Jr. as Brandon
Bethany Hamilton as Herself (Archive Footage/cameo appearance in Thailand scene)
Alana Blanchard as Herself (Archive Footage)